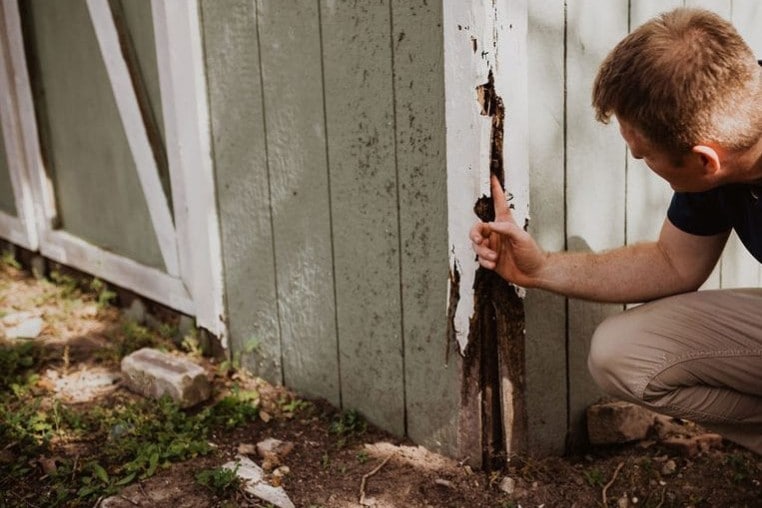 The "Inspecting the Grounds" portion of the inspection, although not part of the actual house, can still prove to be a major source of information about potential problems.
Grades and soil can shift causing water to be drawn toward the house instead of away from it. Poor construction or deferred maintenance can render decks unsafe and any neglected repairs can result in expensive costs. During the inspection materials used must be identified, as well as, the condition of all components and any recommended actions to be taken.
Driveways, Walkways and Patios
Driveways, walkways and patios can crack or move thus, redirecting water towards the foundation causing soil erosion. Poor soil compaction and tree roots paired with soil erosion can cause serious damage to the above components. Steep driveways are also a serious concern. Surface water can flow downhill through cracks at the top of the driveway taking soil along with it creating a void underneath the driveway resulting in concrete damage. Take note, if the concrete has not failed, this information is only a heads-up for the buyer.
Ground Cover and Vegetation
Ground cover and vegetation play an important role in soil erosion, available shade and the overall appearance of the property. If not properly maintained, shrubs, trees and other landscaping can become a detriment to the house. Unpruned shrubs that grow too close to siding can abrade the paint and wood surfaces resulting in mildew on the sides of the house. Vegetation should always be trimmed back from air conditioning units to facilitate air flow. Trees that grow too close to the property can damage the foundation. Tree limbs which over-hang the roof can damage shingles and provide access points for squirrels and other pests to get on the roof and possibly into the attic. Falling tree limbs can also prove to be a safety hazard to people on the ground.
Inspecting the Grounds – Retaining Walls
Retaining walls are used to hold soil in place. Sometimes they actually hold back slopes that have been used to expand a lot. Insufficient footings under the retaining wall can cause it to shift and settle. Too few drain holes in the bottom of the wall can cause water to saturate the soil behind the retaining wall causing the wall to bow or fail. Rail road tie walls tend to rot and require regular maintenance. Walls that allow water to pass through them may also allow soil to flow through the wall causing the grades behind the walls to sink. An inspector must be able to ascertain the difference between a typical crack in a concrete wall and a crack that signals possible failure. Repairs to damaged retaining walls can be very costly and should be evaluated by qualified engineers.
Inspecting the Grounds – Looking for Surface Water
Any surface water around a house is paramount to the integrity of the foundation, footings and any weight-bearing supports of the house. Properly sloped grades, underground drains, gutters and downspout extensions all have to work properly to direct water away from the foundation of the house. Poor exterior water control and improper grades can result in ponding water. Unsettled footings can result in cracked brick veneer, settled porch and deck supports, and damaged retaining walls. Water in basements or crawlspaces is yet another result of poor grading or poor exterior water control.
Inspecting the Grounds – Porches, Decks, Etc.
Screened-in or open air porches require the same maintenance as the rest of the exterior but have additional components that require special attention. Porch roofs and supports must be thoroughly inspected. Support columns can settle causing the roof to sag. The inspector must be able to tell the difference between a porch that was sloped during construction and a porch that has settled since construction. Handrails and guardrails must meet the proper guidelines for height and size to insure the safety of small children. Entrance steps and stoops can be a potential fall or tripping hazard so particular attention must be given to their condition. Improper soil compaction or under-sized footings can cause brick or concrete steps to settle which can be a costly repair.
Decks and balconies are always a special safety concern. Keep in mind, a deck is subjected to the same types of loads as interior floors, but deck construction is often substandard and the components are exposed to the outdoor elements. Proper inspection of the entire deck is one of the most important aspects of a home inspection. The type and condition of the materials used, the attachment to the house, and the flashing, support posts and any footings have to be inspected and their condition determined. Deck framing, railings and guardrails have to be inspected for adequacy and safety. The inspector must assess and evaluate all repair recommendations in the report.
Inspecting the Grounds – Swimming Pools
If the house has a swimming pool, it should be fenced-in and the fence type and condition should be noted. Gates should be inspected for adequacy. A homeowner can be held liable if someone is injured around the pool even if the homeowner is not home. A home buyer should be advised to check with their homeowner's insurance provider to determine what is required to protect their swimming pool from uninvited guests.
Outbuildings
There is some debate over whether or not outbuildings should be inspected. Outbuildings with electricity should be inspected. Damaged wiring or wiring which has been jury-rigged can pose a fire or safety hazard and should be reported. An old storage shed may also contain materials that are dangerous and/or difficult to dispose of. If these types of materials are found, request that the seller take care of the disposal instead of having your customer inherit them.
Your Home Inspector serves as a Jack of all trades during the home inspection. He has to have the familiarity and knowledge to look for and ascertain the viability of not only your prospective home but all aspects of the property in question.
Home Inspector Series  |  View the rest of  "A Home Inspectors Role" Series
Not all home inspectors are created equal. AA Home Inspection has sellers, homeowners, and realtors who use us time and time again so they have the most accurate information possible before they buy or sell a property.  
Contact us (859-448-0213 or 513-319-7770) -or- Request an Appointment To Get Started Today!
—
About AA Home Inspection
AA Home Inspection is a locally owned and operated, full-time inspection company serving the Greater Cincinnati and Northern Kentucky area. We have the experience to provide high-quality results. When it's time to buy a new home, you need to be able to turn to an experienced inspection company you can trust. AA Home Inspection employs a full-time staff of qualified inspectors and office staff. Since 2000 we have completed over 9000 inspections and you can be assured that your home inspection report will give you an in-depth look at your new property.
> Learn More