Home Inspection Made Easy
Welcome to AA Home Inspection.
Home inspection services in Greater Cincinnati including Northern KY.
700+ Total Online Reviews & Counting!
Popular Pages: Quick Links
When You Are Ready To Schedule
You can call us or use our convenient online scheduling tool to schedule your inspection in Kentucky or Ohio.
For Ohio inspections, call (513) 319-7770.
For Kentucky inspections, call (859) 448-0213.
To schedule your inspection online at your convenience, click here.
AA Home Inspection
When you hire AA Home Inspection to inspect your home in Greater Cincinnati including Northern KY, we bring 19 years of experience inspecting homes and the expertise you can only gain after inspecting 11,500+ properties as a business.
Let us put all the pieces of the puzzle together and construct a detailed home inspection report that is complete and easy to understand.
We remove the stress and worry from our clients' minds as they are finalizing their home buying decision by providing them with a thorough online report, both clients and their realtors will have access to the report 24/7 online.
Home Inspection Service Reviews
As of June 17th, 2021, we have 566 Google reviews and 141 more on other review sites with an aggregate rating of 5-stars!
You can hire us with confidence. Our goal is to make your inspection a smooth, painless process from start to finish. Our reviews paint a perfect picture of what you can expect when you do choose to contact us.
We have numerous raving reviews on other platforms such as Yelp and Facebook too.
 Inspection Services in Cincinnati and Northern KY


Seller's Pre-Listing Inspection

Commercial Property Inspection

New Construction Inspection

New Construction 11-Month Warranty


We now offer radon mitigation!

Through our sister company, All Clear Radon, AA Home Inspection is now proud to also offer
radon mitigation
as a service.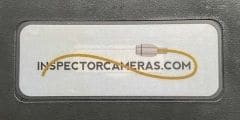 Sewer inspection by camera is another niche service we are able to provide to our clients.  We have solutions for all your inspection needs.
We work with home buyers and sellers. We also have a network of realtors we work with.  We primarily inspect homes as they are in much higher demand than commercial inspections, but our inspectors are qualified to perform both residential and commercial property inspections.
Learn more about the individual types of inspections we offer by selecting the one that best matches your specific needs.
Complete Inspection of the Following:
Roof, vents, flashings, and trim
Gutters and downspouts
Skylight, chimney, and other roof penetrations
Decks, stoops, porches, walkways, and railings
Eaves, soffits, and fascia
Grading and drainage
Basement, foundation, and crawlspace
Water penetration and foundation movement
Heating system (HVAC)
Cooling system (HVAC)
Main water shut-off valve
Water heating system
Interior plumbing fixtures and faucets
Drainage sump pumps with accessible floats
Electrical service line and meter box
Main disconnect and service amperage
Electrical panels, breakers, and fuses
GFCIs and AFCIs
Fireplace damper door and hearth
Insulation and ventilation
Garage doors, safety sensors, and openers
And much more
Over 10,000 Successful Inspections Completed
Below is a map of Greater Cincinnati and Northern KY with each dot representing a property we inspected in 2019 alone!  AA Home Inspection is a team of full-time, licensed professional home inspectors.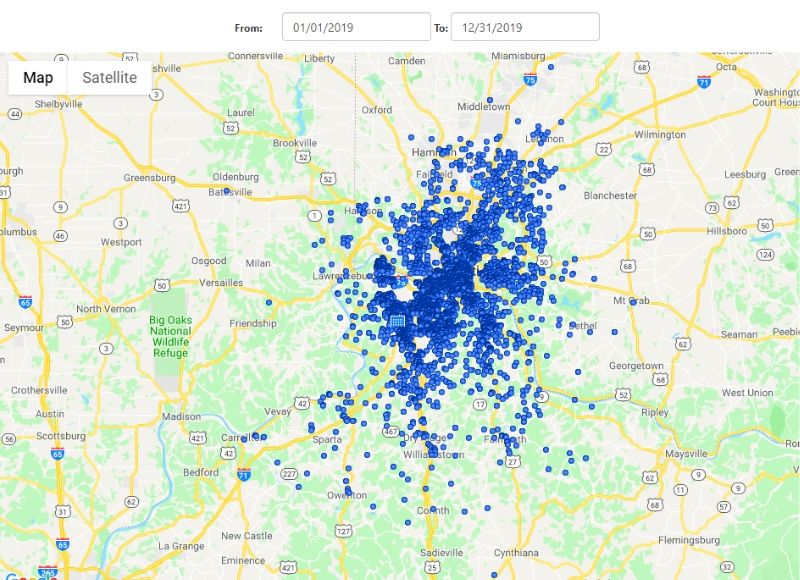 Our Inspection Service Areas
Boone County, KY
Butler County, OH
Campbell County, KY
Clermont County, OH
Gallatin County, KY
Grant County, KY
Hamilton County, OH
Kenton County, KY
Pendleton County, KY
Warren County, OH
AA Home Inspection Vision Statement
To be the preferred Ohio and Kentucky property inspection services company in both residential and commercial properties by upholding our strong commitment to ethics, expertise, and excellence in our profession; by consistently delivering an unmatched level of client service and satisfaction and being at the forefront of innovation. To be the most desirable company for our employees and attract the highest level of talent in the profession.
Schedule Your Inspection Services
We have several convenient ways for you to schedule your inspection service, including online right now.
(859) 448-0213 » Call and speak with our office staff that can answer any of your questions and schedule your inspection.
Option 2: Schedule Online
Our most popular option. You can schedule your inspection online right now!  Our office staff will follow up with you quickly.
Option 3: Email Us
Get started with a quick email to [email protected] and we will follow up with you quickly.


Purchasing a Home is a Big Decision
When it's time to buy a new home, you need to be able to turn to an experienced inspection company you can trust. AA Home Inspection is a locally owned inspection company that is fully dedicated to providing top-notch inspections. To meet this goal, we employ a full-time staff of qualified inspectors and office staff. With 18 years in the business, over 10,000 inspections, and our 200% guarantee, you can be assured that your home inspection report will give you an in-depth look at your new property.
Do you have questions for our inspectors?
We completely understand if you have questions you want to be answered before moving forward with our inspection services.
We have provided the answers to the questions we most commonly receive regarding our home and light commercial inspections on our FAQ page.  If you do not find the answer you were looking for, please feel free to call or email us.
We cover the Northern KY/Greater Cincinnati area.
Hamilton County
Southwest Ohio
Northern Kentucky
And nearby communities...
Complete, thorough inspection of residential & commercial properties.
Roof Inspections
Component Inspections
Foundation Inspections
And everything in-between.
Easy Scheduling Options
Licensed Home Inspectors
Easy To Understand Reports
Honest Reports That Provide Value To All Parties Involved
Fair & Reasonable Pricing
Locally Owned & Operated
Call, text, email, or complete any form.