Home Inspection Services For Sellers

Savvy home sellers have their home inspected before placing it on the market.
This gives them time to potentially raise the sale price of their house by addressing any major issues found during the pre-listing inspection. After the repairs have been made, it may be wise to have a re-inspection performed to ensure the work was done properly.
Buyers can get scared off when a large list of issues is found during an inspection. By contacting us for a pre-listing inspection, you can gain the advantage of knowing what needs to be repaired before anyone tours the property.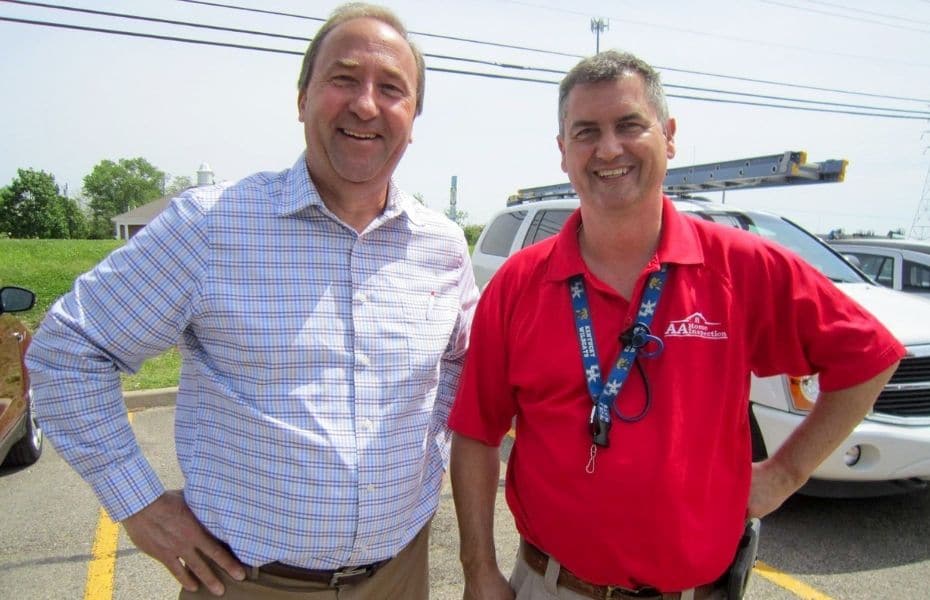 Pre-Listing Home Inspection
Fix problems with your home before potential buyers use these problems to negotiate a lower sale price!
Having a pre-listing inspection performed, provides you, the homeowner, the ability to make needed repairs, obtain estimates for needed repairs, or disclose conditions to potential buyers.
In other words, you remain in control and avoid knee-jerk reactions and inflated costs of repairs. This process also eliminates the need to "renegotiate" the agreed-to purchase price of the home after a buyer's home inspection occurs.
Why have AA Home Inspection perform a home inspection before you put your home on the market?
The last thing you want as you begin to accept offers on your home is ammo for potential buyers to beat you down on the sale price.
Let us tell you the major issues with your home and then discuss these issues with your realtor to determine if they should or should not be addressed before putting your home on the market.
What's included in a home inspection for sellers?
Our Home Inspection Service Includes The Inspection of the Following:
Roof, vents, flashings, and trim
Gutters and downspouts
Skylight, chimney, and other roof penetrations
Decks, stoops, porches, walkways, and railings
Eaves, soffits, and fascia
Grading and drainage
Basement, foundation, and crawlspace
Water penetration and foundation movement
Heating system (HVAC)
Cooling system (HVAC)
Main water shut-off valve
Water heating system
Interior plumbing fixtures and faucets
Drainage sump pumps with accessible floats
Electrical service line and meter box
Main disconnect and service amperage
Electrical panels, breakers, and fuses
GFCIs and AFCIs
Fireplace damper door and hearth
Insulation and ventilation
Garage doors, safety sensors, and openers
And much more
Optional Home Inspection Add-Ons
Tips For a Successful Pre-Listing Home Inspection When Selling a House
During the inspection, the inspector will show respect and try to leave the property as found, shoe covers will be worn to prevent tracking of dirt.
If you have any specific instructions or comments for the inspector please feel free to leave a note.
Leave all keys that we may need out and labeled such as keys to access crawl spaces or locked doors.
Make sure your furnace's pilot light is on. Same for a fireplace if your home has one. This tip holds true even during the summer months.
Tidy up your home, especially the basement.  Please make sure the inspector can access everything without obstruction.
Don't forget to make the attic entry accessible. Please remove clothes and personal items if the access is located in a closet. If access is located in a garage please be certain to remove cars and anything else from within the garage for access purposes.  This is one place that is commonly overlooked by home sellers.
Don't forget about access to exterior property features such as to the crawl space.
Ensure the utilities are on and functional, even if no one is currently living in the home. We cannot do our job without electricity and running water.
If any item is not working and should not be operated, please leave a note explaining.
Do simple maintenance like changing burnt out light bulbs.
Please remove items from windows and preferably open all blinds.
If you have pets please clean up the yard of any animal waste to prevent guests from possibly tracking into the home.
If you have dogs, please make arrangements to remove them from the property, this is best for the dogs to reduce their stress and for the safety of our clients and inspector.
If the property has been or is currently under a termite treatment contract please provide a copy of documents.
Please leave a copy of the owner's disclosure document available for review.
In the event of a Radon Test being performed "closed-house conditions" need to be observed, all doors and windows will need to be closed and kept closed for 12 hours prior to the testing and for the 48 hours of the test.
Pre-Listing Home Inspection Pricing
The cost of your home inspection is primarily determined by the square footage of your home.  Please contact us and we are happy to pull the square footage of your home to provide you with a free, no-obligation cost estimate for your home inspection.
We Perform Home Inspections in These OH & KY Counties:
Boone County, KY
Butler County, OH
Campbell County, KY
Clermont County, OH
Gallatin County, KY
Grant County, KY
Hamilton County, OH
Kenton County, KY
Pendleton County, KY
Warren County, OH
Every Home Inspection Includes:
The heating system
The central AC system
All interior plumbing & electrical systems
The roof
The attic (including visible insulation)
All walls
All ceilings
All flooring
All windows and doors
The home's foundation
The basement
All structural components