Home Inspection Cincinnati
If you are in need of a home inspection in Cincinnati or Southwest Ohio AA Home Inspection is ready to perform your inspection!
AA Home Inspection offers home inspection services in Hamilton County, Butler County, Clermont County, and Warren County, OH
Map of Past Northern Kentucky Inspections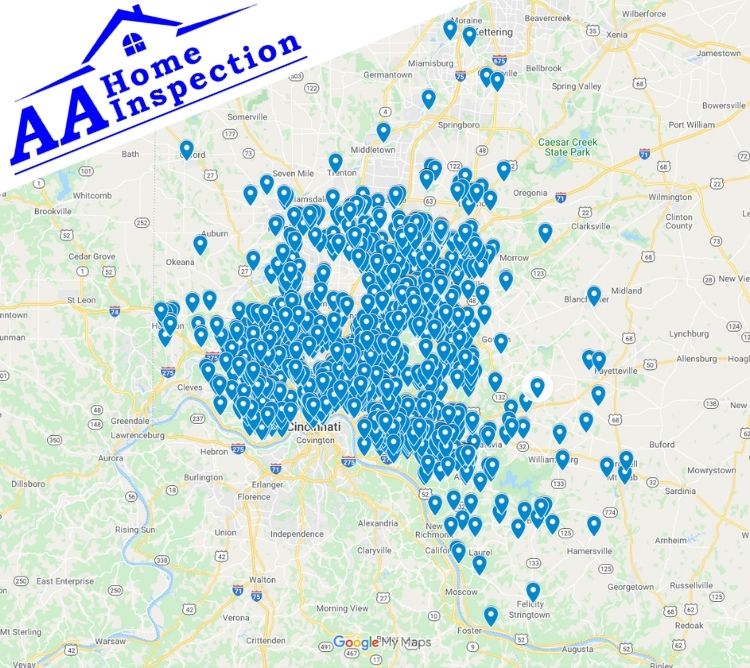 Home Inspection in Hamilton County, OH
Hamilton County, Ohio is popular city to live or visit since it is where Cincinnati is located.
AA Home Inspection caters to homeowner's and potential homeowner's needs in Cincinnati and all of Hamilton County by offering the best home inspection services in Cincinnati based on customer reviews left online!
Home Inspection in Butler County, OH
Bulter County, Ohio is the county North of Cincinnati and is a desirable location considering its proximity to Cincinnati.
You can find AA Home Inspection's home inspectors inspecting properties regularly in cities like Fairfield, Middletown, and Hamilton.
Home Inspection in Clermont County, OH
Clermont County, Ohio is where you can find some of the nicest estates in the Cincinnati area especially in the Indian Hill area.
AA Home Inspection performs home inspection services in Indian Hill, Loveland, Amelia, Batavia, New Richmond, and all of the other cities located in Clermont County.
Home Inspection in Warren County, OH
Warren County, Ohio has been gaining in popularity with the young professional crowd that lives in Mason and works in Cincinnati.  Attractions like The Miami Valley Gaming Center in Lebanon also add interest to the Northeast side of the Cincinnati metropolitan area.
Don't settle for less than the best inspection possible in Warren County by hiring AA Home Inspection to perform your home inspection.
We're Cincinnati's Top-Rated Home Inspection Company
As of March 28th, 2022, we have 850+ inspection reviews with an aggregate rating of 5-stars!
You can hire us with confidence. Our goal is to make your inspection a smooth, painless process from start to finish. Our reviews paint a perfect picture of what you can expect when you do choose to contact us.
We have numerous raving reviews on other platforms such as Angie's List, Yelp, and Facebook too.
Our goal is to be known as the best inspection company in Cincinnati - 1 inspection at a time!  To meet this goal, we employ a full-time staff of certified home inspectors and an office staff to provide over-the-top customer service.
With 18 years in the business, over 11,500 inspections, and our 200% guarantee, you can be assured that your home inspection report will give you an in-depth look at your new property.
Why choose us for your SW OH inspection?
200% Guarantee
Same day electronic reports!
Full-time office staff
Supra Key (Agent Electronic Key) – OH & KY
Online payments accepted
We gladly answer all questions at any time after the report is completed.
You're welcome to join us for your home inspection
We've completed more than 10,000 home inspections
We follow the ASHI standard and are compliant with KY & OH licensing
Every Home Inspection Includes:
The heating system
The central AC system
All interior plumbing & electrical systems
The roof
The attic (including visible insulation)
All walls
All ceilings
All flooring
All windows and doors
The home's foundation
The basement
All structural components
Schedule Your Cincinnati Inspection
Do you have questions for our Ohio inspectors?
We completely understand if you have questions you want to be answered before moving forward with our inspection services.
We have provided the answers to the questions we most commonly receive regarding our home and light commercial inspections on our FAQ page.  If you do not find the answer you were looking for, please feel free to call or email us.