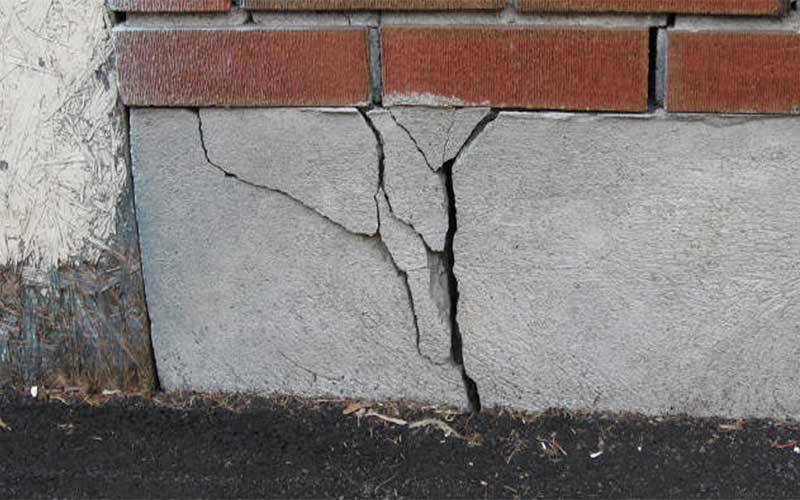 Being able to identify water damage is increasingly important as this will help you avoid mold infestation and costly renovations.
If you are in the market to purchase a home, hire a home inspector. The inspector will check for any signs of water damage. Water damage can be the result of a flood, cracks in the foundation, sprinklers spewing water on the house, or leaky pipes. As a result, mold can form which in turn creates a health risk for anyone in the home.
How to Identify Water Damage Outside the Home
There are several important things to make a note of outside the home.
To reduce the risk of water damage to your foundation, be sure that the ground slopes away from your home. An inspector will be able to tell you if it is sloped enough to keep water away from the foundation and to prevent your basement from flooding. Water follows the path of the least resistance therefore it is capable of getting in the smallest of cracks and will continue to seep through until there is a barrier to prevent it from going any farther. As water works its way to the lowest point, your basement could potentially be flooded.
If you are using sprinklers, be sure that the water does not hit your home. We encourage you to walk around your home with your inspector to assess the downspouts and ensure that they are directing water away from your home and ultimately your foundation.
You will also want to look at your gutters to make sure they are in good condition and securely attached to your home. Your inspector should look for any damaged shingles or soft spots on your roof that may indicate water can or has caused damage to your roof and potentially made its way to your attic.
Schedule Your Home Inspection Online with AA Home Inspection if your home is located in Northern Kentucky or SW Ohio and we will let you know if you have any water issues to be concerned about!
Spotting Previous Water Damage Inside the Home
One of the most apparent signs that there is water damage on the inside of your home is water rings on the ceilings or walls. These tend to be the result of a leaking pipe or a leak on the roof that has allowed water into the attic.
You may notice that floors are warped or that there are soft spots in rooms of the home where water is more prone to get on the ground- near toilets, bathtubs, sinks, or appliances that are connected to water. If there are apparent signs of damage, have your inspector check for leaking pipes as this could result in an unexpected and expensive repair. Look in the cabinets under sinks. Warping and watermarks may have been the result of a leaking pipe.
You will want to know of any repairs that were completed as a result of water damage as these could potentially pose a problem moving forward. Sometimes people put band-aids on problems that need a heftier fix, so it is imperative that you make note of any repairs you notice. If you smell mildew, this could be an indicator of water damage that has been present for quite some time— have your inspector track down the source of the odor.
Spotting Previous Water Damage In the Basement and Attic
Your home inspector is your expert in finding water damage. They are especially conscious of water damage in the basement. Damp basements can cause mold to form, which presents a health risk. Water damage in the basement can be the result of many things, from leaking pipes to a crack in the foundation.
Water has the ability to damage the floors, drywall, or furniture which may result in an overwhelmingly expensive repair. Water damage in the attic usually presents itself around the chimney or roof vents as well as places where shingles are damaged or missing entirely. You should also examine the insulation in the attic to make sure it is dry and look for mold.
The Importance of Choosing the Right Home Inspector
In order to be sure that the home you are considering is free from water damage, we advise you to hire an experienced home inspector. The more years they have in the field, the more likely they are to find even the slightest sign of water damage in a home. Aside from just looking for water damage, inspectors can survey the overall condition of the home to help reassure you that the home you are buying is in peak condition.
Not all home inspectors are created equal. AA Home Inspection has sellers, homeowners, and realtors who use us time and time again so they have the most accurate information possible before they buy or sell a property.
Contact us (859-448-0213 or 513-319-7770) -or- Request an Appointment To Get Started Today!
—
About AA Home Inspection
AA Home Inspection is a locally owned and operated, full-time inspection company serving the Greater Cincinnati and Northern Kentucky area. We have the experience to provide high-quality results. When it's time to buy a new home, you need to be able to turn to an experienced inspection company you can trust. AA Home Inspection employs a full-time staff of qualified inspectors and office staff. Since 2000 we have completed over 11,500 inspections and you can be assured that your home inspection report will give you an in-depth look at your new property.