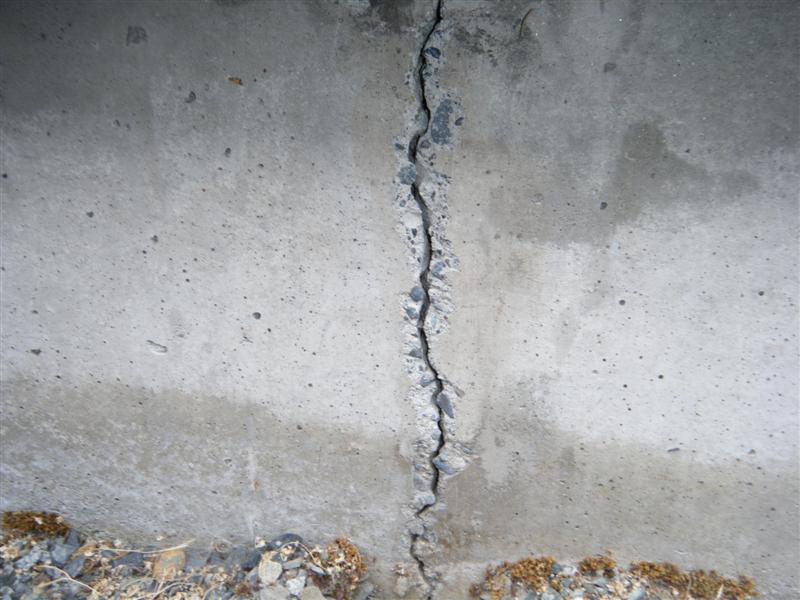 We're all guilty of it….we only see what is front and center…the obvious. However, when it comes to our homes, we need to be aware of all parts of the house – whether seen or unseen. It's a simple truth that most people focus on things they see at eye level. Whether you are inside or outside your house, your attention is often drawn more to the doors, windows, or the siding. You may not think much about the foundation of your home. Every house has a foundation which provides support underneath either by concrete or stone. Severe cracks in walls can signal settlement and foundation problems. It's important to have ongoing inspections of your foundation regularly, so you can catch problems in the early stages, before they become expensive repairs.
Common Problems Can Be Caught Early with Ongoing Inspections
Typically, there are three types of foundations: Basements, crawl spaces, and slab. Regardless of the type of foundation you have, some foundation problems are quite common…
Bulges and outward bumps – Usually caused by temperature changes and can lead to serious problems including abnormal settlement and potential building collapse.
Cracking – Most cracking is caused by the settling of soil and nearby vibrations. Normal cracking is usually easily repaired and not a serious threat to the structure and safety of the home. However, continue to monitor cracks and call in a professional if you notice the cracks are worsening or multiple new cracks appearing.
Leaking – When water penetrates through cracks in the foundation, you will experience leaking in the home. Water can cause erosion and spawn a breeding ground for mold.
Foundation Trouble – Top 10 Signs
Uneven/sloping floors in the house
Cracks in exterior or interior bricks
Displaced or cracked moldings around doors or windows
Wall rotation
Cracks/bowing in walls
Cracks in floors, floor tiles or the home's foundation
Doors/windows that won't open or close properly
Separation of doors, windows or garage doors
Gaps or spaces between walls and the ceiling/floor
Walls that are separating from the house
Keep in mind that procrastination in reporting and repairing these types of serious problems will only cost you more as the condition continues to worsen. Unfortunately, these types of foundation problems cannot go uncorrected as they will ultimately affect the safety of your home.
Don't panic just yet. Some amount of settlement is normal in any house. Some cracks in foundation walls are minor and do not require you to take action right away. However, be sure to monitor them for any changes. If you have an older house, you may notice evidence of minor settling. This is probably nothing to worry about. If you suspect you have major settlement or foundation problems, you can contact your local home inspector as a first step. An experienced Home Inspector will be able to tell you whether the problem is serious and if you need to call in a structural engineer.
Foundation Repairs
Basements are the most complicated type of foundation due to the common depth of 8 feet. As such, basement repair costs are generally expensive depending on the type and extent of damage.
Slab Foundations are the easiest and least expensive foundation for a home. A concrete pad is poured directly on top of 4 to 6 inches of gravel with a sheet of plastic separating them which is designed to keep moisture out. The downside is that there is no easy access for foundation work that may be needed. In addition, sewer lines are embedded in the concrete slab. Repair expenses vary.
Crawl Spaces raise the house off the ground and allow for easy access to plumbing and duct-work. The cost to build a crawl space is comparable to that of a slab.
To ensure your home is safe and sound, make it a point to add a foundation inspection as part of your annual spring home maintenance checklist. If you have a basement or crawl space, regularly check the inside and outside for any signs of damage or age.
Not all home inspectors are created equal. AA Home Inspection has sellers, homeowners, and realtors who use us time and time again, so they have the most accurate information possible before they buy or sell a property.  
Contact us (859-448-0213 or 513-319-7770) -or- Request an Appointment To Get Started Today!
—
About AA Home Inspection
AA Home Inspection is a locally owned and operated, full-time inspection company serving the Greater Cincinnati and Northern Kentucky area. We have the experience to provide high-quality results. When it's time to buy a new home, you need to be able to turn to an experienced inspection company you can trust. AA Home Inspection employs a full-time staff of qualified inspectors and office staff. Since 2000 we have completed over 9000 inspections and you can be assured that your home inspection report will give you an in-depth look at your new property.
> Learn More